About Insectmobile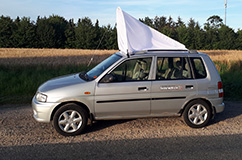 Have you ever wondered which insects hit your windscreen when you are out and about in your car? Or which insects fly around your neighbourhood? Are they big or small and do they prefer the forest shade or the sunny meadows? Now you can help scientists at the Natural History Museum of Denmark find the answers to these questions while helping them learn more about insects in Denmark.
The Insectmobile is a research project at the National History Museum of Denmark, University of Copenhagen, which will investigate the biodiversity of flying insects in Denmark. In the summer of 2018 and 2019, more than 300 volunteers will collect flying insects using large custom designed insect nets mounted on the roof of cars.
Here you can learn more about the project and sign up to help us catch insects.
We look forward to seeing what you catch!